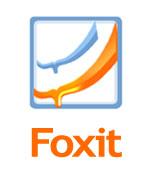 Foxit PDF Reader is a free closed source alternative to Adobe's PDF reader. On older machines it feels snappier than using Adobe's bloated product. In this short how-to I will show you how to fill in forms using Foxit Reader with the 39 US$ Pro-Pack.
The technique I will describe can be used to create professional looking job application forms whether the form is printed or in PDF format.
Adobe Acrobat (not Acrobat-Reader) is the professional product that allows you to edit/fill in forms from Adobe, it currently retails at around 270US$.
Foxit Reader is free to download and use and relatively lightweight at 2.3MB download compared to 33.5MB download with Acrobat Reader. Foxit produce a PDF Editor which allows editing text and images within PDF files, but to fill in forms you only really need the "Plus pack" which is currently 39 US$. You can use all Foxit versions in evaluation mode on a trial basis but this will leave a watermark on your form.
Create PDF from Printed Form
1. In Windows XP the required software is PDFCreator, details of which can be found here. This is only needed if you have a paper form, my technique is to scan in the pages in 300dpi format. Then select the pages in the correct order and right click to "Print using Photo Printing Wizard." Select PDF Creator as the printer and you will have the required pages as a PDF file.
2. When you have Foxit Reader installed click

Tools>>Typewriter>>Typewriter
This will allow you to type directly onto the form. The advantages of this method over using a image editor and typing over the jpeg scan is that Foxit will allow you to save the form and come back and edit the text at a later date as well as offering a spell checker.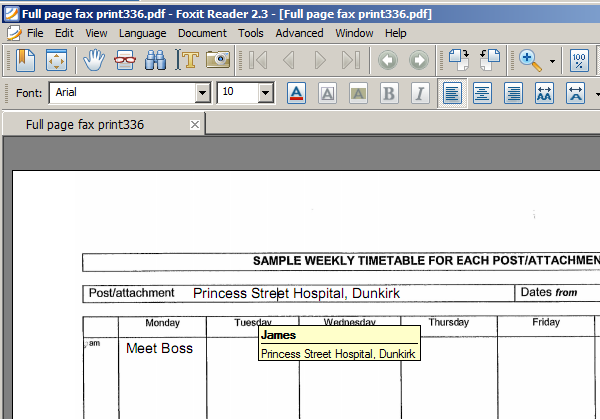 Problems with Foxit and Typewriter: Landscape Forms

There is an annoying bug in Foxit,  acknowledged here and here but not fixed by the software house. When you try and use the typewriter in a landscape document the text comes out 90 degrees out.
This makes filling all those landscape forms impossible without resorting to Acrobat Professional.
The Hack
Select Print from the File Menu in Foxit.
Select PDFCreator as your Printer
Click on Properties
Then Advanced
Select Papersize "Postscript Custom"
Select Edit Custom Paper Size
Assuming you are using A4 paper enter 297 * 210mm
Change paper feed to "Short Edge First"
Print to PDF.
You should now have an identical looking PDF but the typewriter will work correctly. If the typewriter function is still 90 degrees out then change paper feed to "Long Edge first"