The BT Home Hub enables consumers to get free or low-cost VOIP phone calls out from their DECT/regular phones in their home to UK 01/02 numbers. The BT softphone application when installed allows you to make these calls from a PC anywhere on the Internet. Using this guide I will show you how to make free* phone calls from MSN messenger back to your HomeHub handset when you are away from home, perfect when you are on business and want to call family.
When you are away from home you can call your VOIP phone using the SIP protocol by downloading a suitable client, free examples of which can be found at wikipedia here. What I think would be more convenient would be to use MSN Messenger, which is ubiquitous, and often present in Internet cafes and hotels, often with microphone/handsets ready set up.
1. Sign up for a free account from dyndns.com, you will want a Free Dynamic-DNS account. This will enable you to contact your router even when it's IP address changes. Make a note of the username and password that is given. Make your own address memorable eg. MedicalNerds.dyndns.org **
2. Go to the administration of your home hub at bthomehub.home

Click on advanced>>Continue to advanced>>EnterUsername/Password>>DynamicDNS

The password is admin and username admin for most BT home hubs. Here you should fill out the DNS details that you created with the DynDNS service. This will make sure that even if your home IP address changes (It does so when the hub reboots or is turned off) you can still 'find' your phone on the internet.
3. Surf to gtalk2voip. This service enables Google-Talk and MSN users to use their service to connect the standard (PSTN) and VOIP networks. Subscribe by using the form on the top right giving them your MSN address. This should mean a Gtalk2VOIP user will ask to join your messenger contact list, you must allow it. You can check that this is working by opening a window to talk to the Gtalk2voip system by sending them the message 'HELP'. It sometimes takes a few hours for you to be added to their system. ***
4. Next make a call. To make a call you open a conversation to the Gtalk2VOIP system with the following format

CALL 441234567890@MedicalNerds.dyndns.org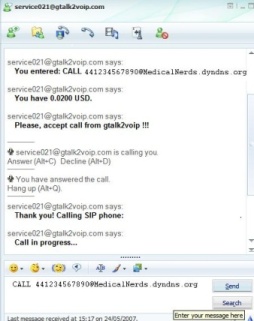 Where 441234567890 is the international number for the VOIP line given to you by BT and MedicalNerds.dyndns.org is the dynamic address you created to refer to your hub.
The MSN Messenger client will ring, and when you answer your home hub phone will ring at the same time.
The caller ID on the Bt home hub phone will show the name of the person calling! This should work with GoogleTalk and Yahoo via gtalk2voip, and definitely works via the gizmoproject.com client, but I prefer using the MSN client which tends to be installed on most PCs I use when away from home and of course requires minimal setup..
This could be used with any SIP/VOIP adapter/provider. I have illustrated the BT Home Hub, a re-badged Router with built in VOIP, as it is has been given away free to thousands of customers who use BT in the UK.
* I have never been charged and I don't know how they could charge you.
**As default the address of your phone is 441234567890@btsip.bt.com, but unfortunatley BT do not resolve this address to your phone. Your phone is really present at 441234567890@81.x.x.x.x Where 81.x.x.x.x is your current IP address, this however changes from time-to-time, and setting up DynDNS will give you a more memorable address. The router will automatically contact DynDNS to let them update the routing information whenever the IP address.
***The Gtalk2Voip system also lets you make low cost calls, send free SMSs and send cross IM-network messages amongst other things.