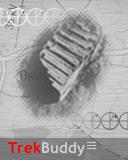 BlackBerry smartphones are handy for GPS navigation helped by the excellent BlackBerry and Google Maps applications. When you are out of range of a data signal both these applications are unable to continue to provide a map. With TrekBuddy you can use offline maps, from Google and elsewhere, record route speed and waypoints, or use your phone as a direction finder. TrekBuddy is a great, freeware application developed by Kruch a Czech developer and is suitable for J2ME devices including a BlackBerry with OS 4.1 or greater.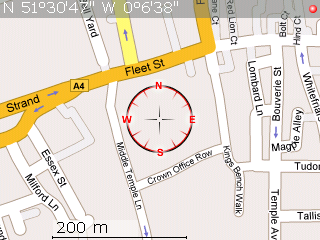 Using offline maps with TrekBuddy enables you to download maps at detail levels that suit you, that load quickly as they are stored on the SD Card, and of course do not incur any data download costs, this is especially useful when you are roaming overseas. The map on the right is a screen shot from a Curve 8310, using a map created with the excellent gm2tb- GoogleMaps to TrekBuddy site.
How To
1. Download TrekBuddy: The ALX and COD files can be found via this link.
2. Install TrekBuddy: Use the BlackBerry Application Loader to install the application. Instructions on how to use application loader can be found here.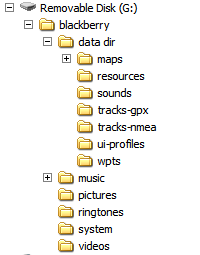 3. Set up the Folder System: Using Mass-Storage mode navigate to your SD Card using Windows Explorer, you need to create a folder called "data dir" with subdirectories called maps, resources, sounds, tracks-gpx, tracks-nmea, ui-profiles, wpts as shown on the diagram on the right.
Disconnect your BlackBerry from your PC and load the TrekBuddy application. Press the BlackBerry key to bring up the menu.

Go to Menu->Basic->Data Dir

This needs to be set to the location of the data directory you created, mine is

file:///SDCard/blackberry/data dir/

ensuring the slashes and capitalisation are correct. Next go to

Menu->Location-> GPS provider

for a BlackBerry such as the 8310 you should set it to internal GPS. If you have an external GPS puck it can be set up here.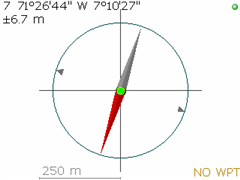 5. Test GPS Connection: To test the GPS connection on menu, go to Start to enable GPS and then press the # key to bring up compass mode. Once you have a signal you should have a compass display with your current location like this. The green dot shows that you have a GPS signal.
6. Download a Map:As standard no maps are supplied with TrekBuddy. The easiest way to download a map quickly is using the Google Maps to TrekBuddy website by AwokenMind. To use this website use Google Maps to find the area you want to create a map for, give it a name then click download. The tar file that you create should be placed in the maps directory of your BlackBerry.
6. Use your map!: Disconnect the USB cable, load TrekBuddy, Start the GPS, and select the map you have just added.
Potential Problems
Setting Application Permissions:I didn't need to do this, but you may need to give TrekBuddy access to your SD card and access to your internal GPS Device. This is done on the BlackBerry by navigating to
Options->Security Options->Application Permissions->TrekBuddy->Edit Permissions->Set all to'Allow'
Setting the Path to Media Card: If your path is not correct you will get the following error:
Failed to start tracklog: file://wrong-path/ net.rim.device.api.io.file.FileIOException: File system error
This means you should carefully check your path to the SD Card
Connecting with USB: Always exit TrekBuddy before connecting the USB cable and entering Mass Storage Mode, otherwise TrekBuddy can crash and may require a battery pull.
Further Information